A Personal Message from Christopher Fuzy, MS, RD, LD
Our Approach & Philosophy – What To Expect With Our Program
Founder Clinical & Sports Nutritionist / Registered Dietitian – 25 years Experience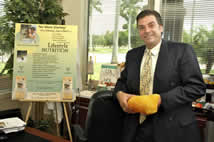 America's Problem
You've heard the advice. Whether it's for medical or personal reasons, you need to lose weight or watch what you eat because your cholesterol or blood pressure is high.  Many of my clients have attempted various approaches  to try and resolve their nutritional issues and failed.  Successful people  feel  because they are high achievers they should be able to formulate their own program without professional help.  I remind my clients, DO NOT  Blame Yourself Because You May Be Confused or Tried A Fad Diet, Medication or Detox and It Didn't Work For You Long Term … Its America's Problem, this is the mentality of America!  Plus, we use a metabolic analyzer to determine your caloric needs based on your muscle, activity level, type and amount of exercise.  The secret is we now can effectively provide a sliding scale nutrition program based on your metabolic needs for your personal foods preferences and lifestyle  with shopping lists, etc.
You've tried the latest and newest fad diets, meal replacement or commercial weight loss  programs or your doctor prescribed a medication, all promising "miraculous" results…but delivering little to none.  Maybe the medication worked for a while but is no longer effective or has too many side effect.  YOU KNOW  IMPROVING YOUR DIET AND lifestyle  ARE IMPORTANT…. SO YOU WILL NOT NEED TO RELY EXCLUSIVELY ON MEDICATIONS  to solve your MEDICAL ISSUES.
Many clients have tried the generic, pre-printed diet sheets given to you by your doctor or off the internet.  They are not a personalized and do not offer flexibility, are difficult and unrealistic  to follow and are confusing and contradictory.    High carbohydrates, low carbohydrate, and frustrated low fat, high protein . Confusing information, impersonal diet sheets and fad diets leave you disappointed …and no closer to your goal or a healthier lifestyle.
Unfortunately After Trying Many Types of Programs and Failing Long  Term, Many Clients Give Up and Blame Themselves  –   It's Not Your Fault!
If you have tried diets before and failed, it is because they are temporary, boring or make unrealistic demands and promises. They ask you to change your lifestyle to try fit into the diet. Fad diets set you up for failure. It's not your fault! There is a better way…
What To Expect After You  Begin A Lifestyle Nutrition Metabolic Counseling Program
After YOU begin nutrition counseling, clients realize we are formulating a program together for you and your family.   Every week, or every other week meet for a series of nutritional consultations  (usually 3-6 consultations over a few months).  You leave with set of SPECIFIC goals,  NAME BRAND FOOD RECOMMENDATIONS/ COMBINATIONS , SHOPPING LISTS AND FOOD GOALS TO DO SO THAT TOGETHER WE FIND LIFESTYLE SOLUTIONS YOU THAT YOU LIKE AND BECOMES A POSITIVE UPLIFTING EXPERIENCE.  
Custom Meal Plans Based On
After 30 years of nutritional counseling in hospitals, physician practices, and our clinics, here is a summary of our approach for patients with specific medical needs or who are interested in wellness, weight loss or optimal health. The key to the nutritional program is having the ability to provide a meal plan based on patients lean body weight, height, age, sex and activity level. The higher the metabolic rate, and the more muscle and activity level, the more carbohydrates a patient will receive.
Blood labs
Food Preferences
Activity level
Height, Weight, Age, Sex, Body Fat, Muscle

Basal Metabolism, Resting Metabolism, and Daily Living Calories
Aerobic and Anaerobic Exercises Expenditure (based on lean muscle)
Genetic & Lifestyle Risk Factors
Lifestyle & Food Preferences
Whether you purchase food at Publix, Shop Right,  Whole Foods, Wal-Mart, Costco, we  provide weekly goals, shopping lists, meal plans and nutritional information based on their preferences and lifestyle. We Get Specific – No generic diet sheets.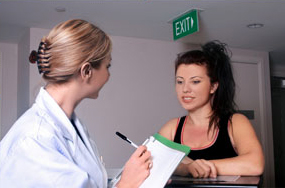 OUR CORE PHILOSOPHY IS TO PROVIDE functional foods and food combinations that patients can incrementally incorporate to into their hectic lifestyle based on their food preferences without having to weigh food, count calories, grams, and food groups. We present and explain the specific name brand foods & custom exercise guidelines in multiple ways for better comprehension and compliance. Usually, within 4-6 sessions patients will have the necessary skills to instinctively understand WHY AND HOW TO eat specific foods while incorporating long term behavior modifications and embrace healthy eating and exercise to their lifestyle.
Provide weekly goals, shopping lists & simple recipes in a sequence that clients understand and look forward to incorporating lifestyle changes. Each session focuses on different foods and nutritional principles.
Provide a positive uplifting intellectual experience for most any patient demographic, from fast food junkies to raw food believers, and from gourmet chefs to domestically challenged over-stressed professionals.
Type of Nutrition Programs Available
Cardiac – American Heart Association
Diabetic- American Diabetes Association
Low Glycemic, High Fiber, Plant Based
Paleolithic
Mediterranean Diet
Atkins, Zone
Sports Nutrition, Intermittent Fasting
American Dietetic Association
Ketogenic
Alkaline Diet
Blood Type Meal Plan
Vegetarian or Vegan Diet
Meal Replacement Program
Pain Management
HCG Hormone Lifestyle Program
Food Combining
Pritikin Like Diet
Specific Clinical/ Medical Meal Plans We Develop are listed on our Home Page.
INCREMENTAL LEARNING BY COMPLETING SPECIFIC – WEEKLY FOOD GOALS
First we provide the ingredients for 3-5 minute meals and snacks concentrating on the correct combinations of foods for each patient's metabolic needs.
Then in subsequent nutritional sessions patients are taught how to eat and are provided with specific name brand foods and how to incorporate them into their lifestyle.
Finally by the 3rd –6th weekly nutritional session patients have necessary skills & knowledge to eat healthy in a variety of real life situations, such as traveling, restaurants and social occasions.
CLIENTS FOLLOW THEIR NUTRITION  PROGRAM BECAUSE THEY FEEL BETTER, YOU HAVE MORE ENERGY,  LESS HUNGER AND FATIGUE AND ITS JUST MAKES SENSE!
THE  Ultimate Goal … Healthy,  Intuitive Eating- FOR LIFE!!
Once you adopt your ideal NUTRITION program IT IS FLEXIBLE ENOUGH TO  INCORPORATE REAL LIFE EATING.

No more computer-generated menus that are hard to follow or contain things you can't eat or don't like
GROWING UP IN A EUROPEAN FAMILY, I EXPERIENCED, FOOD WAS LOVE, FOOD WAS MOTIVATION, FOOD WAS REWARD AND FOOD WAS ENTERTAINMENT!
I think one of the reasons I am a successful dietitian is I can relate to my patients, their challenges and concerns. I've also been overweight and unhappy…frustrated and confused, and have used these principles myself to overcome my weight issues. After training over 900 physicians and their offices nationwide in the past 30 years with our Lifestyle Nutrition Metabolic Counseling Program, I have learned and seen a lot.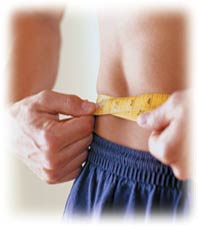 Let's face it. Your lifestyle affects your health tremendously. My experience and background  As a Chief Clinical  Hospital Dietitian for two years and having completed my Master's Degree in Clinical & Sports Nutrition, and undergraduate degree at FSU  in Nutrition & Dietetics / Chemistry and clinical experience at the Texas Medical Center, Houston, will allow us to formulate a nutritional program for you and your family.   I have found patients that have fallen into an unhealthy lifestyle would do anything to turn back the clock, If you're ready to change your NUTRITIONAL LIFESTYLE forever!!
We now know it's easier for a client to follow a program if we can modify the program to meet your specific food preferences, metabolism, activity level, muscle & lifestyle .  Our nutritional advice on your medical / nutritional needs and lifestyle.
A Progressive Clinical Nutritionist/ Registered Dietitian from the Lifestyle Nutrition program will present you with a nutrition program that makes sense, fits into your hectic life and covers the most important points that I have discussed with thousands of patients  including
Individual Food Preferences including desired number and size of meals
Recommend Healthy Widely Available Healthy Supermarket Food
Based on Your metabolic rate, muscle mass, activity level
Your rate of weight loss, weight gain, or maintenance
Realistic Exercise Program
Based on Blood Labs  & Your Lifestyle
Focus on Blood Sugar Management Not Calorie Management
Long-term behavioral changes and so much more
We Get Specific!
Detailed shopping lists, food combinations, simple recipes
Weekly goals with specific brand name  foods
Specific eating out guidelines

Healthy snacks
Sample custom menus
How & what to feed your family
How to eat at restaurants and when traveling

Stress reduction
Doesn't this Make Sense?
We provide  food combinations, goals, menu, shopping lists,  that you can implement your own personal lifestyle nutrition program.  No generic menus… people get bored after only a couple of weeks.
Specific selections will be provided based on your lifestyle, medical and nutritional goals
We explain the science behind Lifestyle Nutrition, and our patients always agree that it is more gratifying to understand the science behind nutrition than to try to blindly follow something they don't understand.  Plus, if you're taking a nutritional supplement or medication, you can continue taking it, because our Lifestyle Nutrition plan is complementary to what your doctor recommends.
Christopher Fuzy MS, RD, LD
Clinical Nutritionist Performing Nutritional & Metabolic Assessment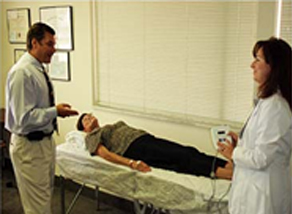 We know that by making a few small changes in your lifestyle, you will look better, feel better, gain more confidence in yourself and become healthier.
To learn more watch our Personal Message Lifestyle Nutrition VIDEO (Click Here) and then call our office for a consultation with one of our nutritionists in Fort Lauderdale or Boca Raton and then print and complete the NEW CLIENT QUESTIONNAIRE.
YOU WILL THANK YOURSELF FOR TAKING Control of Your Health,
Christopher Fuzy MS, RD, LD  Clinical & Sports Nutritionist / Registered Dietitian / Founder & President
To Schedule An Appointment
2. Please print and complete the New Client Questionnaire below and bring to your initial consultation, including a 1 day food record documenting how you typically eat and drink on a typical day from morning to sleep.
3. Call 954-561-0166 to set up a nutritional consultation with one of our nutritionists in one of our Fort Lauderdale or Boca Raton offices.
If you are a Doctor or Business interested in learning more about our Turnkey Lifestyle Nutrition Metabolic Counseling Programs For Your Practice www.PhysicianWellnessProgram.com
Fort Lauderdale Sports Nutritionist, Dietitian, Boca Raton Sports Nutritionist, Dietitian, Fort Lauderdale Weight Loss, Boca Raton Weight Loss, Red Bank Sports Nutritionist, Dietitian, Red Bank, Dietitian, Red Bank Weight Loss