About The Nutritionist & Founder Lifestyle Nutrition Inc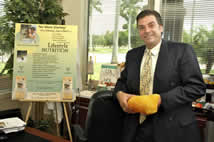 After completing a bachelors degree in Food and Nutrition with a minor in chemistry at Florida State University, Lifestyle Nutrition Founder Christopher Fuzy MS, RD, LD graduated with honors and a Masters Degree in Clinical Dietetics and Sports Nutrition. He completed dietetic clinicals in the Houston Texas Medical Center in 1987 and his master's thesis was in clinical sports nutrition.  He then headed The Clinical Nutrition Department at a local hospital in South Florida for two years. Some of the areas of expertise dealt with cancer, cardiac diseases, pregnancy, weight loss, kidney and gastrointestinal diseases etc.  Acting as the Senior Clinical Dietitian at the hospital  he also learned that many physicians were interested in incorporating sound nutrition principles into their physician practices
In 1990, Mr. Fuzy started his own company in which he privately consults with patients and implements wellness programs in hospitals, physician offices, elite spas, health clubs, and corporations throughout the U.S., Latin, and Central America. To date he has trained over 900 physicians, nurses, medical assistants worldwide through seminars medical conventions and onsite training. It is estimated that over 30,000 patients worldwide have received the Lifestyle Nutrition Program through physician offices.
Lifestyle Nutrition believes in a conventional and an alternative or homeopathic approach to disease management and prevention, and nutrition counseling, incorporating Lifestyle changes to promote a higher quality of life, without food restrictions.
It is estimated that Mr. Fuzy has Individually nutritionally counseled thousands of patients / clients for disease management, weight control, anti-aging, nutritional supplements, exercise guidelines, with many socio-economic backgrounds including the physically and mentally elite and indigent minorities for Cancer, Heart Disease, Diabetes, High Lipids, Credible Weight Loss, Renal & Fatty Liver Disease, Metabolic Syndrome, Eating Disorders, Pregnancy, Lactation, Menopause, Sports Nutrition, Chronic Fatigue Etc.
Act as consultant to physician and spas for marketing (news ads, direct mail, online newsletters and TV commercials), billing and logistics for application of nutritional program to specific locations.
Attended and managed numerous medical conventions, exhibition booths, health fairs and conducted seminars in weight loss anti- aging, disease management, sports nutrition, maternal nutrition…
Initiated clinical counseling programs with numerous nutritional supplement companies with consumers to combine both lifestyle changes along with product usage.
Implemented numerous corporate wellness programs with companies nationwide.
Wrote & published numerous articles, papers, position statements for magazines and trade journals regarding Clinical & Sports Nutrition, Anti- Aging, Weight Loss, Addictions and Eating Disorders etc.
To Schedule An Appointment
2. Please print and complete the New Client Questionnaire below and bring to your initial consultation, including a 1 day food record documenting how you typically eat and drink on a typical day from morning to sleep.
3. Call 954-561-0166 to set up a nutritional consultation with one of our nutritionists in one of our Fort Lauderdale,  Boca Raton, Red Bank or Neptune, NJ offices.
If you are a Doctor or Business interested in learning more about our Turnkey Lifestyle Nutrition Metabolic Counseling Programs For Your Practice www.PhysicianWellnessProgram.com
Christopher Fuzy MS, RS, LD
Fort Lauderdale Sports Nutritionist, Dietitian, Boca Raton Sports Nutritionist, Dietitian, Fort Lauderdale Weight Loss, Boca Raton Weight Loss, Red Bank Sports Nutritionist, Dietitian, Red Bank, Dietitian, Red Bank Weight Loss